Apple's iCloud Activation Lock feature is quite helpful for avoiding iOS device from being used by burglars because of their own and preventing owners' privacy info falling to wrong hand. When the iOS device has been stolen or lost, owners can enable Find My iPhone and it'll lock which particular iPhone/iPad/iPod using all the owners' Apple ID accounts, meaning the device will need the first Apple ID and password when somebody else wish to put in the gadget.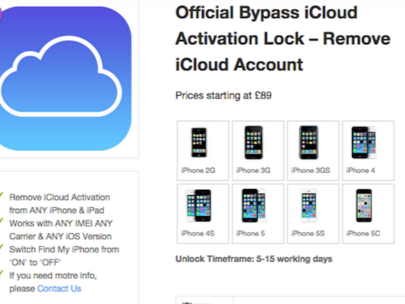 But if you unfortunately purchase a stolen or lost iOS device on eBay, Craigslist, or even alternative second-hand market, this can be a disaster because they essentially purchase an unusable device. If you're bothered by an iCloud secured device, the subsequent procedures to
icloud unlock
will be of the help. What's more, if you discover a missing iOS device and would like to return to the owner, then these methods can allow you to speak to the proprietor.
Method 1 Speedy Bypass iCloud Activation Lock
If you receive an iPhone from used market and discover that it takes Apple ID and password to trigger the device, it's extremely probably a stolen iPhone. Unfortunately, you don't have any way to find out it till you have the phone. However, you may try to icloud unlock in these measures..
Measure 1. Harness the Home button and pick the "Wi-Fi Settings". In the Wi-Fi network recordand tap the "I" symbol beside the WiFi Network that you need to link to.
Measure 2. Once you tap on the "I", then you'll be leaded into this network settings. Eliminate the present DNS, and enter the newest DNS according for your place:
Measure 3. After you've entered the perfect DNS, tap on the "Back" button and then click on "Activation Help".